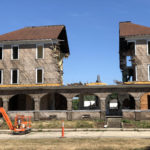 The Carroll City Council approved a plan to solicit proposals for the development of the former City Apartments site on N. Main Street, just a little over one year after they purchased it. The demolition of the designated dangerous building was completed over the summer with environmental testing done in September. City Manager, Mike Pogge-Weaver, told the council the Request For Proposals (RFPs) outline their requirement that the property is developed for residential use.
With that approval, the timeline would require proposals due back by Nov. 12 with panel review done on Nov. 17. Then on Nov. 23, the council will select the preferred proposal and set a public hearing for Dec. 14. If all goes well, approval of entering into a contract for the work will be done that same day. However, the deed to the property will not be transferred in a typical way and there are other stipulations outlined in the RFP.
As a part of this process, the council was also asked to waive current policies that require an appraisal be completed and used for determining the sale price of the property.
The council did waive those policies. The RFP is now available online, a link to which is included below.
Source: https://www.1380kcim.com/2020/10/14/city-of-carroll-seeks-proposals-for-residential-projects-at-former-city-apartment-site/