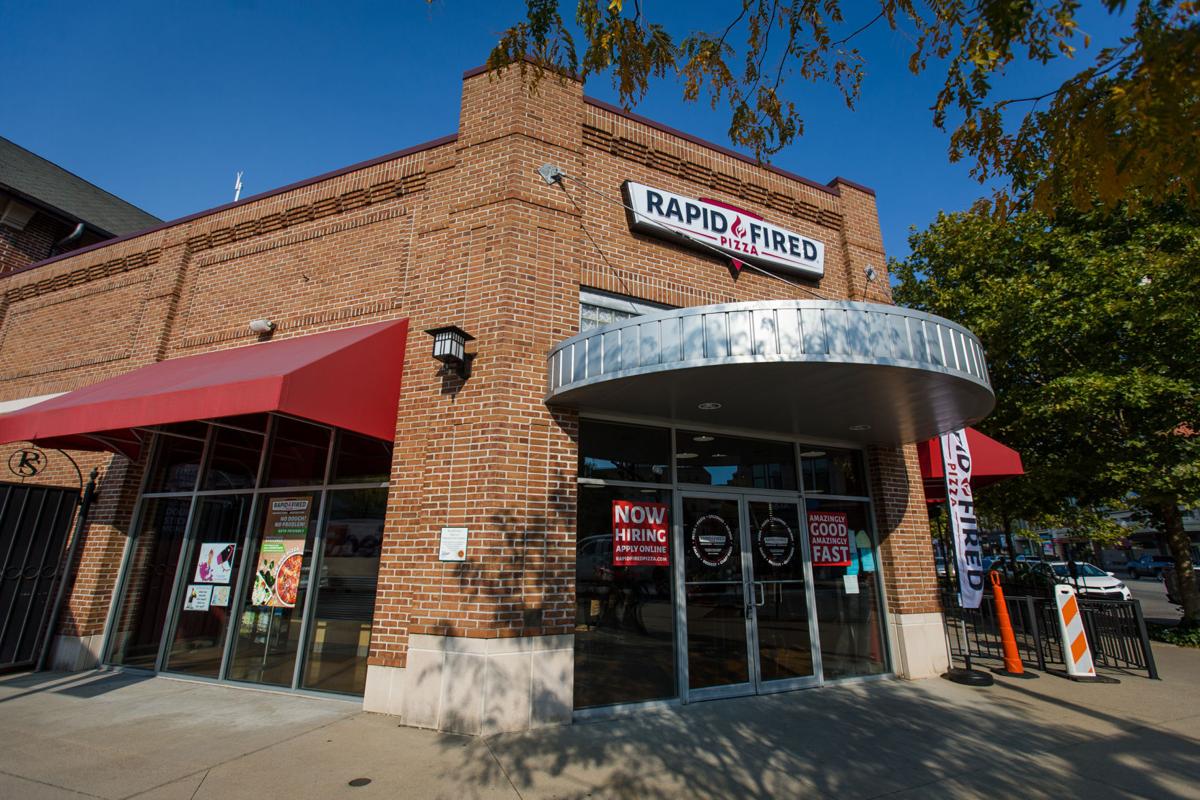 HUNTINGTON — Rapid Fired Pizza is opening in Pullman Plaza on Friday.
The new 2,500-square-foot location at 900 3rd Ave. in downtown Huntington will be the first Rapid Fired Pizza (RFP) franchise in West Virginia.
"We look forward to the grand opening of Rapid Fired Pizza's first West Virginia location," said Travis Timberlake, one of the new restaurant's new owners and operators. "This location will bring 35 new jobs to the area."
The business is owned by Big Blue Pizza LLC, founded by partners Timberlake, Matthew Warnock and Trey Vanhoose. The trio also own the RFP in Ashland, which opened last April.
The restaurant seats more than 85 people and includes outdoor dining on the patio.
The menu features handcrafted, individual-size pizzas and 14-inch family-size pizzas that are made to order and cooked right in front of you. RFP features eight sauces, eight cheeses, more than 30 toppings and 14 dipping sauces for patrons to build their perfect pizza. Craft pizzas, pasta, calzones, salads, breadsticks and desserts are also available in addition to the gluten-free, low-carb "No Doh" pizza.
Delivery is available via DoorDash and GrubHub at Rapid Fired locations based on third-party availability.
Rapid Fired Pizza's concept is that guests can go from zero to pizza in 180 seconds with RFP's "Amazingly Good, Amazingly Fast" offerings. The concept was founded in Kettering, Ohio, and has grown as fast, Timberlake said.
RFP has 35 stores open in five states, including four stores inside Kroger locations. They opened the first RFP in September 2015.
For more information, visit www.rapidfiredpizza.com.
SUMMIT ENTERS KENTUCKY MARKET: Summit Financial Group in Moorefield, West Virginia, has agreed to buy WinFirst Financial in Winchester, Kentucky.
The $2.9 billion-asset Summit said in a press release Monday that it will pay $21.7 million in cash for the $152 million-asset parent of WinFirst Bank. The deal is expected to close by the end of this year.
Meanwhile, Summit is also still actively working on establishing a location in Huntington, according to regional President Geoffrey Sheils.
"We are still actively working on establishing a location in Huntington, but more often than not, things just take a little longer than expected to happen," he said.
NEW APP DEBUTS IN HUNTINGTON: GreenPal, an app that connects homeowners with local, vetted lawn care and snow removal professionals launched last week in Huntington.
"After successfully launching in 200 other markets, we are excited to help homeowners in Huntington find reliable, safe and local lawn care and snow removal," said co-founder Gene Caballero.
Nashville-based GreenPal allows homeowners to find local, pre-screened lawn and snow removal professionals. Homeowners can list their lawns with their service date and lawn care needs, Caballero said.
"Vetted lawn care pros can then bid on their properties based on the Google street and aerial images and any other lawn details the homeowner provides," he explained. "Homeowners can then select who they want to work with based on the vendor's ratings, reviews and price. Once a vendor has completed the service, the vendor will send a time-stamped photo of the completed work. Homeowners can then pay via the app and set up more appointments."
Nashville-based GreenPal currently operates in Chicago, Tampa, St. Petersburg, Atlanta, Charlotte, Orlando, Houston, Oklahoma City, San Antonio, Los Angeles, Phoenix, San Jose, Jacksonville, Fresno, New Orleans, Sacramento, Miami, Fort Lauderdale, Louisville, Cincinnati, Columbus, Cleveland, Kansas City, Pittsburgh, Denver, Baltimore, Detroit and St. Louis.
For more information, visit https://www.yourgreenpal.com/local/lawn-care-huntington-wv.
Source: https://www.herald-dispatch.com/business/business-beat-rapid-fired-pizza-opening-at-pullman-plaza/article_a00c0a5a-e7ba-5d92-91d5-d18bdb7b27bc.html