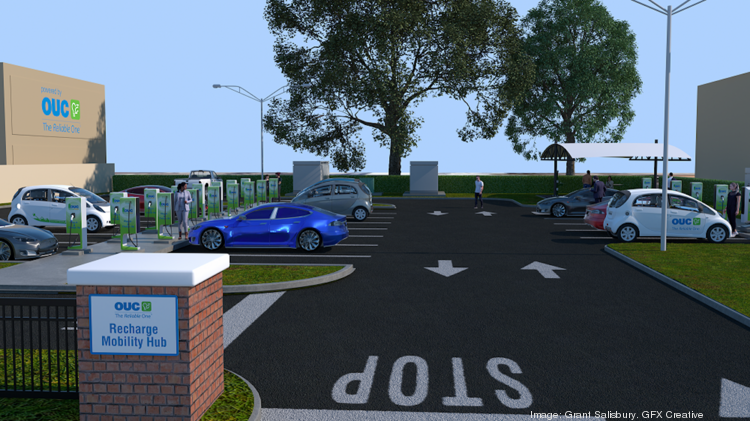 Orlando Utilities Commission plans to build a $1.04 million electric-vehicle charging station in downtown Orlando.
It will feature 22 charging stations: 16 for Tesla vehicles and six universal chargers. The project — to be built on a one-acre portion of OUC's parcel at 129 W. Robinson St. — is a partnership between the utility, the city of Orlando, Orange County and electric-vehicle charging equipment maker Power Electronics.
Clint Bullock, general manager and CEO of OUC, told Orlando Business Journal the organization aims to increase Central Florida's electric vehicle use to 40,000 by 2025. OUC has about 165 charging stations and plans to reach 300 by second-quarter 2021.
"As consumers consider whether they should go with the internal combustion engine or an electric vehicle, one of the things that has come up is infrastructure," Bullock said. "We said as OUC that is something we can help with removing those barriers in place and help develop the market here."
The project will be helped by a $500,000 grant from the Florida Department of Environmental Protection, which came from the state's $166 million settlement with German automaker Volkswagen related to emissions violations. This station and 26 others in the state will be funded by $13.5 million from the settlement.
The rest of the cost not covered by the grant will be paid by OUC ($438,221) and Power Electronics ($100,000).
Design for the project is underway. OUC will issue a request for proposals (RFP) for the construction work in late October. Construction will start by early 2021 and take roughly three months to complete.
The utility's other initiatives to increase electric vehicle use include the installation, ownership and maintenance of electric-vehicle charging stations for businesses, as well as charging station rebates for its home consumers. It usually targets community stations for areas where it sees the most registered electric vehicles, Bullock said.
Florida officials have worked to invest in additional charging stations to incentivize the use of electric vehicles. Florida Gov. Ron DeSantis announced in July 2020 that the state was investing $25 million of the Volkswagen settlement toward building out a network of electric vehicle chargers.
"This long-term investment in electric vehicle charging infrastructure is a win for our state on multiple levels," DeSantis said in a prepared statement. "Not only will these charging stations promote reduced emissions and better air quality, they also will improve mobility and safety for the ever-increasing number of Floridians who drive electric cars."
Vancouver-based electric vehicle manufacturer Electra Meccanica Vehicles Corp. also is considering Orlando as a site for its new plant. Orlando is among the potential suitors for a location that would create roughly 200 jobs. An update on the site selection is expected at the end of the third quarter.
Source: https://www.bizjournals.com/orlando/news/2020/09/29/orlando-utilities-commission-to-build-downtown.html