RFP management platform, RFP360, recognized as Leader and High Performer in G2 Grid reports.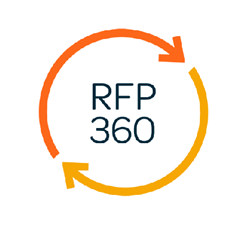 LEAWOOD, KAN. 
RFP360, an RFP software company, today announced its placement in three Fall 2020 G2.com, Inc. Grid reports. The reports, based on customer feedback, have named RFP360 a Leader in Proposal and RFP Software as well as a High Performer in Strategic Sourcing. This is the second consecutive report in which RFP360, the full-circle, integrated platform, is the only RFP management software to be named in three categories.
RFP360 has advanced in both customer satisfaction and market presence in each Grid report in which they have appeared. In addition, the Strategic Sourcing Grid report ranks the company highest in customer satisfaction.
"We are thrilled to once again be recognized in the Fall 2020 G2 Grid reports. When we started RFP360, our goal was to provide a full-circle platform that improves the RFP experience for everyone. So, it is incredibly rewarding to hear these first-hand stories from our customers about how RFP360 does just that," said Dave Hulsen, co-founder and chief operating officer of RFP360.
One customer's recent review explained the benefits they've experienced saying, "…prior to RFP360, each response was practically a new process from the beginning. We have saved literally hundreds of hours in our first year not rewriting versions of content we've created before but didn't have a great way of finding, storing, modifying and searching."
G2 also recognizes the ongoing efforts of visionary companies who are "pushing the boundaries of the market" in their Momentum Grid reports. In the newest Fall report, RFP360 has again been named Momentum Leaders in the RFP and Proposal Software categories. The report analyzes customer satisfaction, market presence, market share, vendor size and social impact.
Another user reviewer described their experience saying RFP360 provides an "Intuitive user experience and strong documentation/help. Responsive customer service and smooth onboarding. Content library interface is easy to use and dashboard is useful … [the] solution is updated regularly with new features and fixes; recently multiple authors and reviewers have been added to the online collaboration function, which is a significant feature."
"From the beginning, we envisioned a solution that empowers greater collaboration between organizations. I'm proud of the way RFP360 partners with our customers, learns from their experiences and then equips them for success, now and in the future," said Hulsen.
Each quarter, G2.com, Inc., releases Grid ® and Index Reports that rank products based on reviews gathered from their user community in addition to data aggregated from online sources and social networks. In addition to being named a Leader and High Performer in the most recent reports, RFP360 is consistently highly rated by customers in ease of use, quality of support and ease of setup.
To learn more about RFP360's full-circle RFP management software, visit: https://rfp360.com/rfp-management-platform/ or follow the company on LinkedIn and Twitter.
Source: https://www.prweb.com/releases/rfp360_advances_in_three_fall_2020_g2_grid_reports/prweb17404358.htm