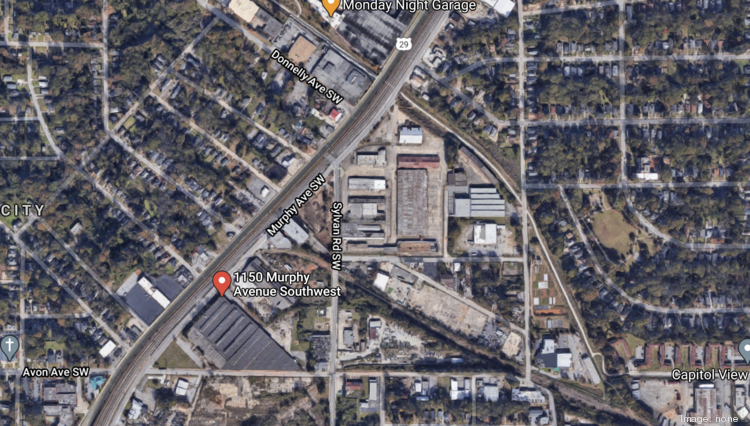 Atlanta BeltLine Inc. recently closed on the $5.25 million purchase of approximately 9 acres in the historic Oakland City neighborhood in southwest Atlanta. What will become of the property near the Westside Trail will be decided through a future community engagement process, according to ABI.
The property's address is 1150 Murphy Ave. and is located a short distance from the valuable 20-acre Murphy Crossing site at 1050 Murphy Ave. Murphy Crossing fronts the Westside Trail, a 3-mile multi-use corridor that connects Washington Park to Adair Park.
ABI's purchase comes at a crucial time as developers are buying up key sites along the Beltline for new housing. With the purchase of 1150 Murphy Ave., ABI would be able to control the amount and kind of affordable housing that could be developed on the site. The organization seeks to create and preserve 5,600 affordable units along the Beltline, a planned 22-mile loop that encircles the core of the city mostly along old rail lines. The project has already seen billions of dollars of new investment, resulting in gentrification in many neighborhoods along its path, including the loss of affordable housing.
ABI recently restarted virtual community meetings to gather input on what residents want to see built on the 20-acre Murphy Crossing property before putting out a second request for proposal seeking a developer. A 2018 RFP was canceled in June due to the Covid-19 pandemic and to gather more community input, according to ABI.
The 1150 Murphy Ave. property will go through a separate public RFP process, similar to what is occurring now with the 1050 Murphy Ave. property, according to an ABI spokesperson.
ABI purchased 1150 Murphy Ave. from the Georgia Building Authority. An unused state maintenance warehouse currently sits on the site, according to the GBA. A future Beltline spur is planned south of the former state property. 1150 Murphy Ave. is adjacent to the Lifecycle Building Center where people can buy usable building materials once headed to the landfill.
This story has been updated.
Atlanta's 75 Largest Nonprofit Organizations
Ranked by 2019 gross revenue
| | | |
| --- | --- | --- |
| Rank | Organization | 2019 Gross Revenue |
| 1 | Habitat for Humanity International Inc. | $2.30 billion |
| 2 | National Christian Foundation | $1.99 billion |
| 3 | American Cancer Society | $830.15 million |
Source: https://www.bizjournals.com/atlanta/news/2020/09/24/atlanta-beltline-southwest-atlanta.html