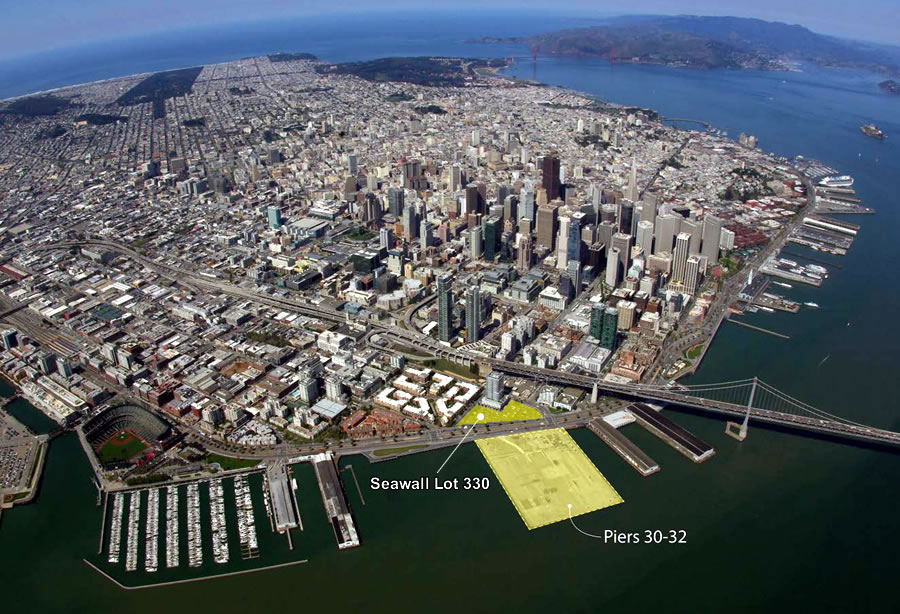 The Port of San Francisco received three qualified responses to its Request for Proposals for redeveloping Piers 30-32 and Seawall Lot 330 across the street (upon which the hotly contested Embarcadero Navigation Center was constructed at the base of the Watermark).
As proposed by the Strada Investment Group and Trammell Crow (Strada TCC Partners), Piers 30-32 would be completely demolished and then rebuilt, with a pair of new finger piers flanking a series of floating pools and "wetlands," along with launches for kayaks and other human-powered watercraft.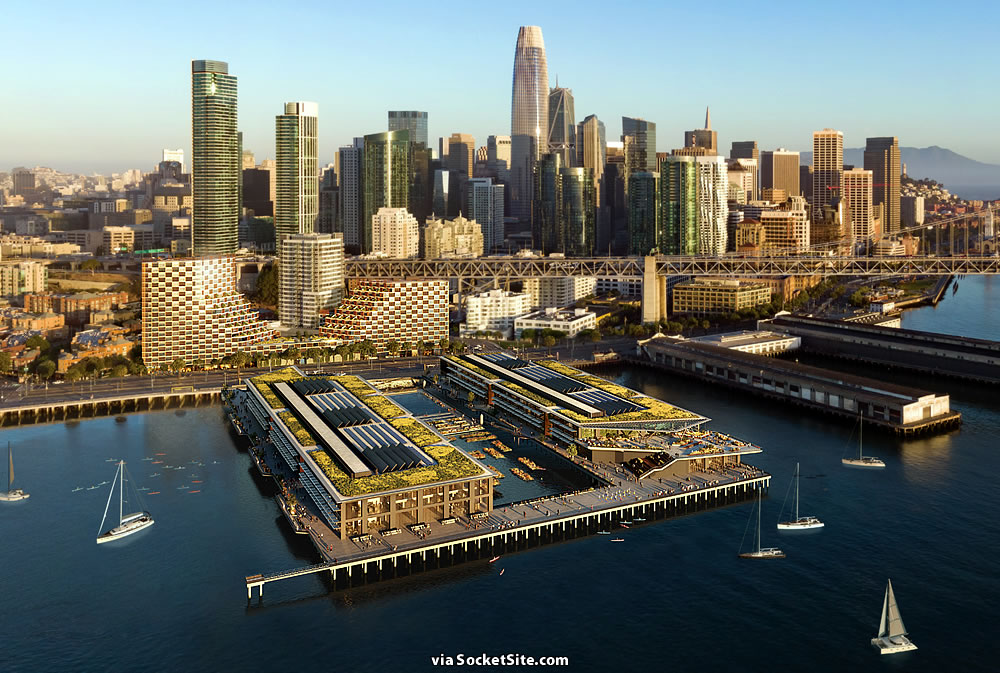 Around 30,000 square feet of retail and 376,000 square feet of office space would be constructed upon the new finger piers as envisioned.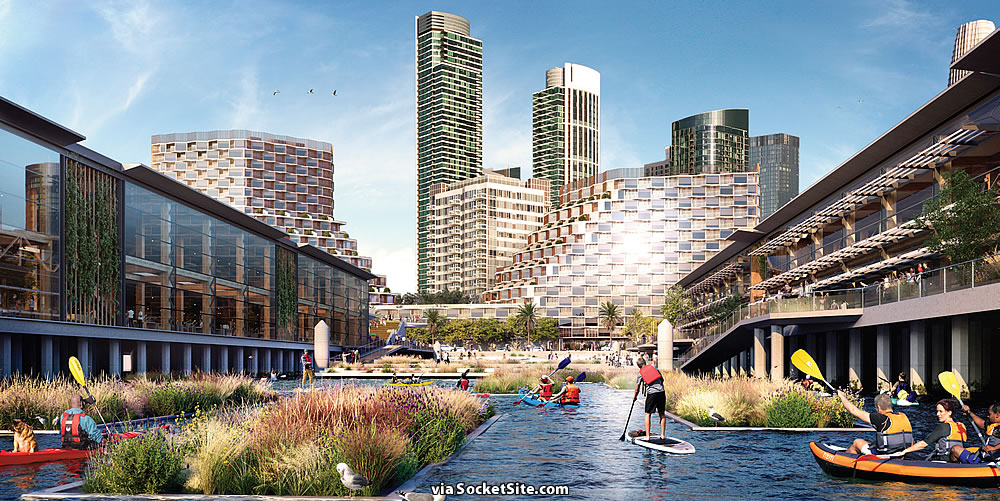 And across the street, the Strada TCC team is proposing to develop two buildings rising up to 218 feet in height on the Seawall Lot 330 site, with 850 apartments over ground floor retail and parking, employing California's Density Bonus law to exceed the site's current height limit of 105 feet, with 25 percent of the residential units to be leased at below market rates.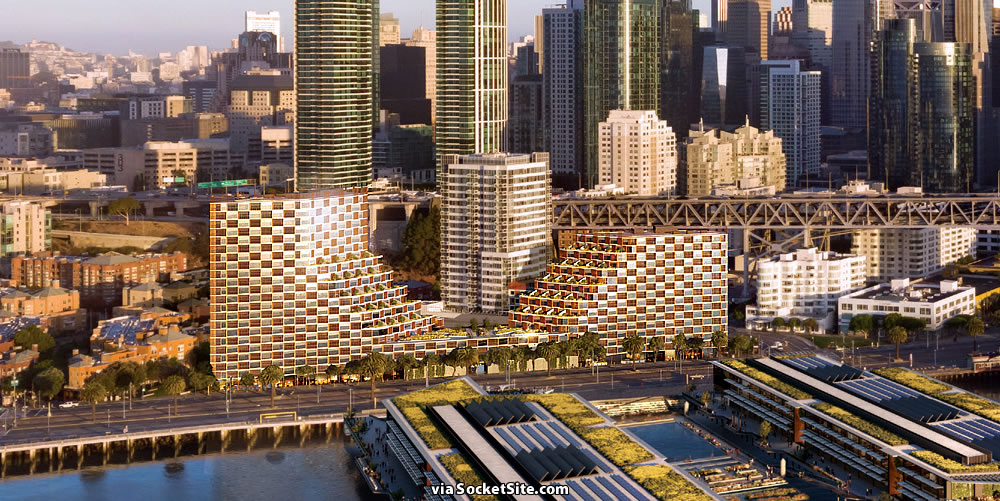 Tishman Speyer has proposed to redevelop the existing Piers site with roughly 690,000 square feet of space, including 169,000 square feet of retail, restaurants, cafes, recreation and cultural space along the water's edge, 520,000 square feet of general office space and a new South Beach Plaza along the Embarcadero as rendered below.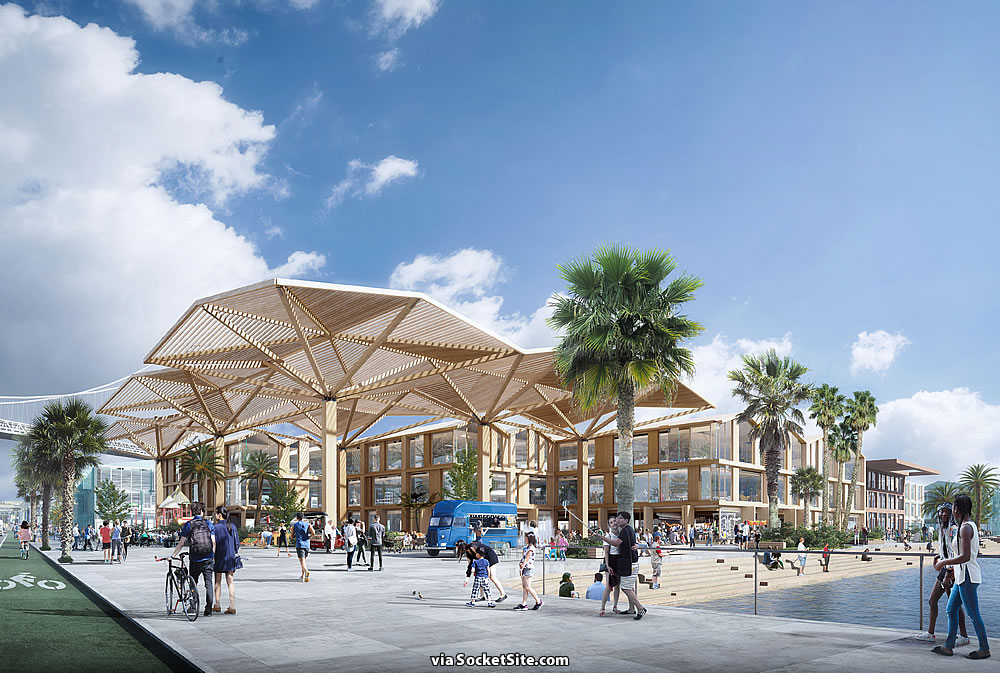 As faintly rendered in the background, the Tishman proposal includes the development of 459 apartments rising up to 95 feet in height on the Seawall Lot, 50 percent of which would be leased at below market rates.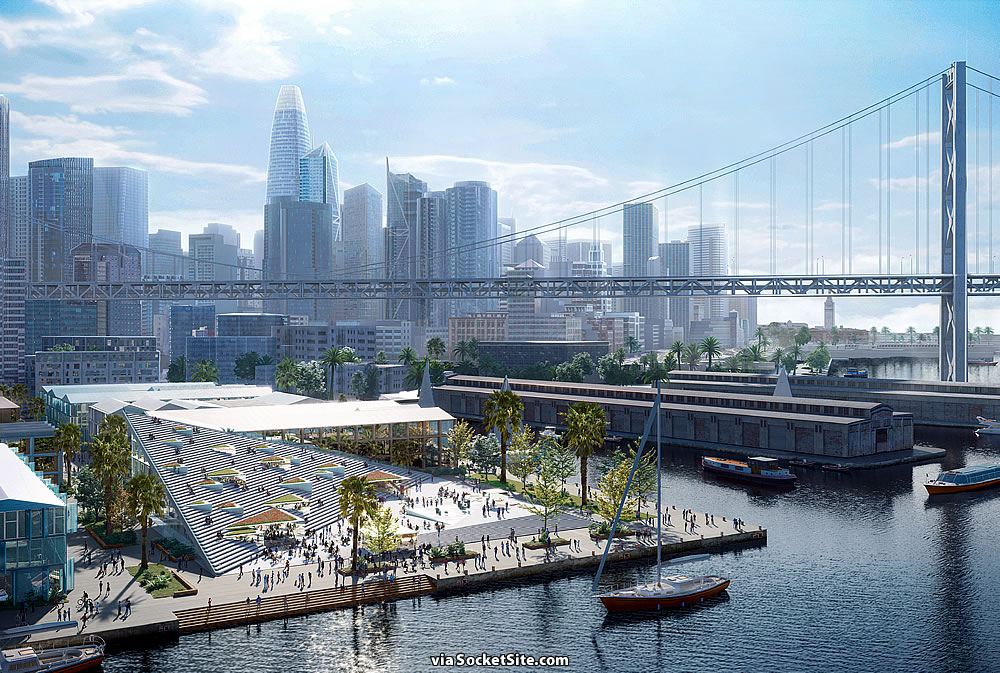 And as proposed by Vornado Realty Trust, the 13-acre Piers 30-32 site would be rebuilt, with a million square feet of interior space upon the piers, including 150,000 square feet of new restaurant, retail and exhibition space along with 850,000 square feet of office use, topped with an eight-acre, publicly-accessible green roof/recreation area.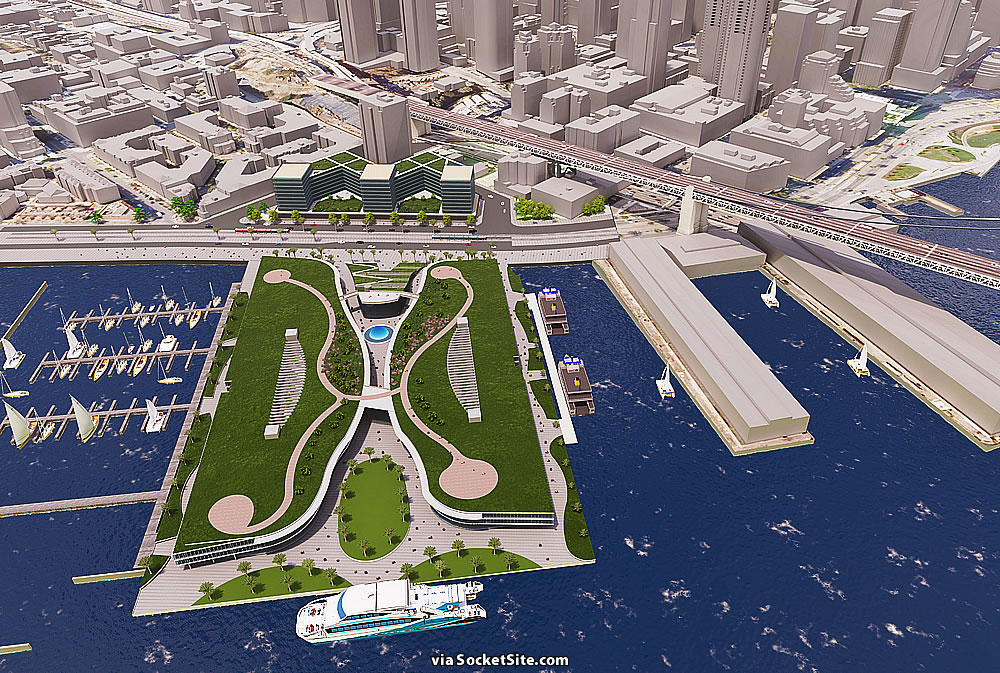 Vornado's proposal includes a new 150-berth marina as well, with plans for 360 apartments slated to be built upon Seawall Lot 330, rising up to 85 feet in height over 26,000 square feet of ground floor retail space fronting the Embarcadero and 25 percent of the residential units to be leased at below market rates.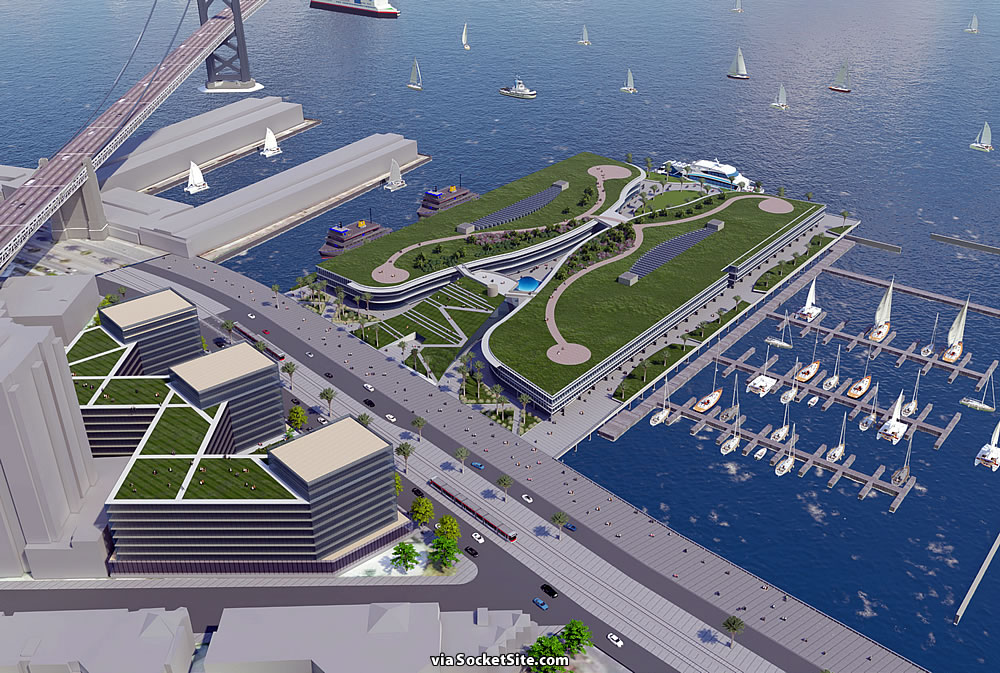 And with the Port's scoring panel having given Strada's proposal its highest overall mark, and Vornado's proposal its lowest, the Port Commission is expected to authorize the Port to start exclusive negotiations with the Strada TCC Partners team for the projected $1.2 billion project at the end of the month.
Keep in mind that the Piers 30-32 and Seawall Lot 330 sites, which are held in a public trust, won't be sold but rather leased. And having been granted to the City of San Francisco by the state to support "maritime commerce, navigation, and fisheries," to protect natural and cultural resources, or to provide "facilities that attract the public to use the waterfront," the commercial redevelopment of Piers 30-32 is likely to face some regulatory challenges, as the Warriors learned the hard way.
And yes, the Strada TCC team has indicated that it would be willing to proceed with only the Seawall Lot component of the project, the proposed height and view-blocking mass of which are sure to rankle its neighbors, if the challenges related to redeveloping Piers 30-32 as proposed are too onerous to overcome.
We'll keep you posted and plugged-in.
Source: https://socketsite.com/archives/2020/09/the-three-proposals-for-piers-30-32-and-across-the-street.html