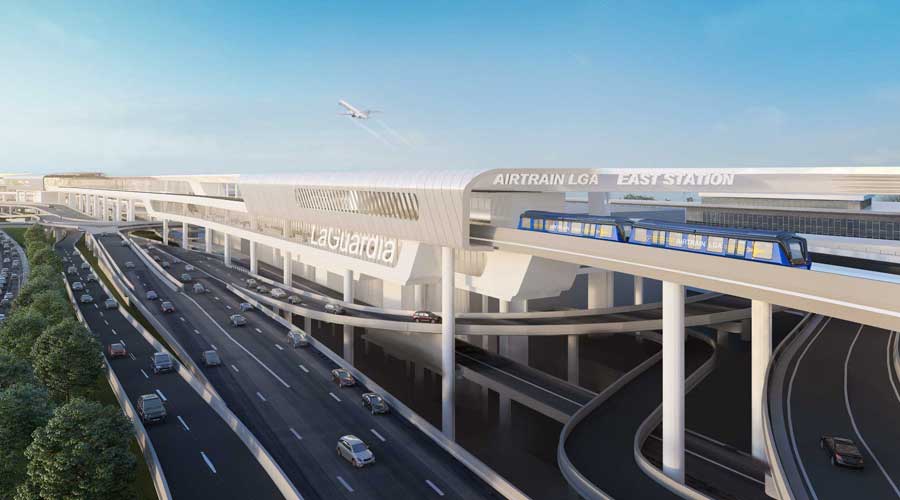 The Port Authority of New York and New Jersey (PANYNJ) recently issued a request for proposals (RFP) for a landscape architecture or engineering design firm to advance Flushing Bay promenade improvements as part of the proposed AirTrain LGA project and $8 billion LaGuardia Airport redevelopment plan.
The authority plans to build AirTrain LGA to provide millions of air travelers a reliable, 30-minute trip from midtown Manhattan to the airport, with connection through a new Willets Point station. PANYNJ's preferred alternative calls for building two airport stations and connecting the AirTrain to MTA Long Island Rail Road and MTA New York City Transit lines.
As part of the project's federal environmental review, PANYNJ has committed to providing additional mitigation measures to the promenade area based on public comments to a draft environmental impact report and a community outreach program. The firm chosen through the RFP will help the authority develop a plan to improve the promenade.
"The AirTrain LGA is essential to the redevelopment of the airport, and it will bring notable benefits to the surrounding community, including reduced air pollution, reduced traffic congestion and significant upgrades to the Flushing Bay Promenade," said PANYNJ Executive Director Rick Cotton in a press release. "The port authority is also committed to leaving the promenade in far better shape than its current condition, and to seek community input regarding specific improvements."
Source: https://www.progressiverailroading.com/passenger_rail/news/PANYNJ-seeks-designer-for-AirTrain-LGA-related-promenade-work–61506