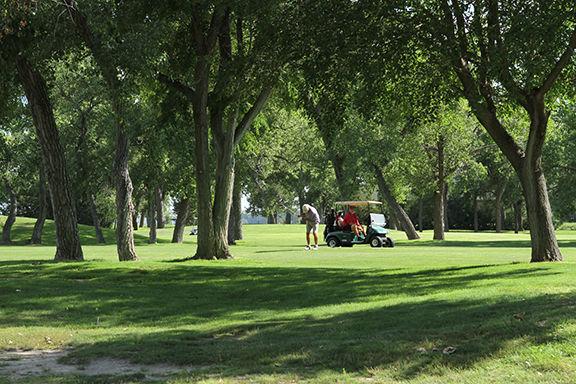 A "request for proposal" seeking someone to buy or lease Iron Eagle Golf Course will be unveiled during Tuesday's regular North Platte City Council meeting.
City Administrator Matthew Kibbon will present a 10-page document meant to "garner interest from investors or developers" who want to purchase, lease or lease to purchase the 26-year-old course.
Council approval isn't needed to send out the RFP, but council members can express official support if they wish, he said in a council memorandum.
The 18-hole course along the South Platte River has long divided North Platte residents, exacerbated by damages and partial closures due to significant river flooding in 1995, 1997, 2013 and 2015.
Iron Eagle's supporters have touted it as an attraction for tourists and new businesses, while its foes have cited chronic operating losses and contended the city shouldn't be competing with private courses.
The RFP says the city wants "to explore selling, private leasing, leasing to purchase or other alternative uses of the public course," without seeking "any management fee or other fee or compensation for operating and maintaining the golf course.
"It is possible that another entity with new approaches, resources and ideas may be more successful in changing the revenue picture for the golf course."
A major hurdle to selling Iron Eagle was cleared in April, when the Glenn Chase family granted the city a "quit-claim" deed giving it clear title.
The Chases donated the course's 154-acre site to the city in July 1992 on condition that it be used for a public golf course.
The April deed removed that condition but confirms the family's continued mineral and hunting rights on the Iron Eagle site under an earlier June 1999 deed.
As drafted, the city's RFP gives potential buyers or lessees until Sept. 29 to submit proposals to the city.
Though leasing the course is offered as an option, "the city of North Platte is unequivocally divesting" itself from the course, the document says.
Those wanting to lease the course would have to sign a minimum two-year contract, which could be extended for "not less than three years" at a time by mutual agreement.
The city also would consider granting an option to buy Iron Eagle at the end of the original lease, the RFP says.
Anyone who leases the course would have to guarantee Iron Eagle "would remain intact as a golf course" for at least five years.
But if the city leases the course, it would receive only its lease payment and "will not be seeking a fee or a profit cost-share percentage from the proposer," it adds.
Council members, Kibbon and Mayor Dwight Livingston would review all purchase or lease proposals.
In choosing one to pursue, "selection criteria will be heavily weighted based on future uses and development opportunities and lightly weighted on purchase price or anticipated lease terms," Kibbon said in a council memorandum.
An August 2019 private appraisal by Jim Bain of North Platte estimated Iron Eagle and its improvements were worth about $510,600, though he noted a lack of comparable land sales in that estimate.
Bain's appraisal was commissioned by Citizens Concerned About Iron Eagle's Red Ink, a group of local residents that has urged the city to divest itself of the course.
Source: https://nptelegraph.com/news/local_news/north-platte-city-council-to-propose-selling-or-leasing-of-iron-eagle/article_74c3c4fc-e96c-11ea-9faa-ef14aff1ec9f.html