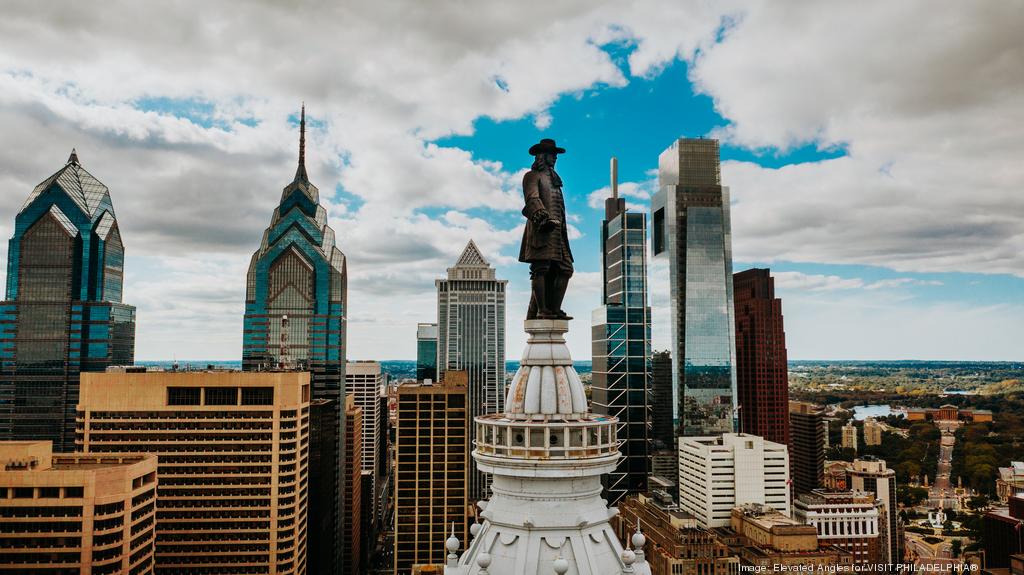 The dozens of Philadelphia businesses and organizations behind the Philadelphia Global Identity Partnership are moving ahead with rolling out new, unified messaging about the city's brand months after the Covid-19 pandemic canceled a test run of the persona at the popular South by Southwest conference.
The cohort of about 40 groups — including the city, Visit Philadelphia, Temple University, Comcast and the Philadelphia Convention and Visitors Bureau — has put out a request for proposals for a developer of an online toolkit that will centralize the partnership's materials.
The digital infrastructure aims to accurately and authentically represent Greater Philadelphia's brand identity and depict the area as a top place to work and live, said Dyshaun Hines, global program manager of the partnership. In turn, the toolbox aims to help recruit new businesses, investment and talent to Philly from around the world.
The collaboration also envisions Philadelphia residents, organizations and businesses using the toolbox to further promote their respective visions and goals, Hines added, and that the resource will increase engagement with adopting the partnership's brand narrative. The toolkit will provide an online platform to showcase stories, key statistics, data, images, video, news items or external communications and content created to highlight the region as a whole.
Proposals will be accepted for the RFP until July 20. The partnership will host a live Zoom Q&A Wednesday at 2 p.m. for those interested in submitting a proposal. Interested parties should RSVP to info@philadelphiaglobalid.org.
As part of the RFP, a vendor is needed to create a content management system that will help "depict why Greater Philadelphia is an attractive place to work and live, which will assist in recruitment of new businesses, investment and talent from across the world." The vendor will support the website for at least a year.
The target date for completion of the online toolbox is quarter one of 2021. A proposal is anticipated to be selected by the end of August.
Before the pandemic, the city had committed to contributing $100,000 annually to the partnership for five years, starting with fiscal year 2020. Due to the economic challenges brought about by coronavirus, the city will reduce its contribution for fiscal year 2021 to $55,000, said Kevin Lessard, a spokesman for Philadelphia's Department of Commerce. It aims to restore its full $100,000 of annual support in future years.
About $300,000 in contributions have been collected in support of the partnership as of June, Lessard added. An additional $115,000 of in-kind contributions were committed between July 2019 and last month.
The Philadelphia Global Identity Partnership has been in the works for more than three years. Its goal is for member organizations to begin cohesively utilizing uniform messaging to strengthen Greater Philadelphia's brand identity.
Local marketing agency Brownstein Group completed a year-long, $50,000 contract doing research to inform the strategic anchor. The well-known Philly agency identified four key brand tenets of Philadelphia that contribute to a higher quality of life for residents: personality, diversity, human connection and history and ingenuity. Analysis found Philly's attitude and personality set it apart from other cities.
In its research that concluded summer 2019, Brownstein Group conducted more than 400 interviews and surveyed over 1,100 people on a regional, national and global scale about their perception of Philadelphia. The business also gathered roughly 2,000 online responses.
The message was meant to be tested in March at Austin's South by Southwest conference, which attracts about 75,000 people annually. 400 ambassadors of Philly's new messaging were slated to weave the ideas into their interactions throughout the two-week event before both ambassadors and conference attendees would be surveyed on their reactions to the messaging.
As months passed amid the pandemic after the conference's cancelation, the partnership's member organizations honed in on how it could begin utilizing the resources being developed in their daily work, said Michelle Freeman, CEO of Witty Gritty, which helped formulate the South by Southwest plan.
"This toolkit and online structure that we'll have built will be something that can be put into use," Freeman added. "Then when the time comes when we can start to safely go in person to represent or be connected in international and national opportunities, we'll have that at the ready."
Despite the barriers brought about by the pandemic, Hines noted the public health crisis has underscored an even greater need for the partnership to come together on the centralized narrative and mission.
The Philadelphia Global Identity Partnership is about unity and keeping Philadelphia at the forefront of attracting and investing in business and talent, said Emily Spitale, associate vice president of strategic marketing and communications at Temple University. Amid the economic ramifications brought about by the pandemic, it is especially important now for local groups to support and promote each other, she said.
"At any organization … the mantra right now is we're stronger together and it's more important now than ever to be together, to be unified, to be on the same page," Spitale said. "So to me this is what these kinds of groups, partnerships and initiatives are all about." Many local organizations excel at presenting and promoting Philadelphia's brand identity already, she added. The partnership serves as an effective way to bring that work together and showcase a central place where people can get a glimpse of what's happening in Philly. As a dual purpose, the developed materials can serve as resources for regional groups to use the same marketing and communications tools and assets.
Source: https://www.bizjournals.com/philadelphia/news/2020/07/08/philadelphia-global-identity-partnership-update.html