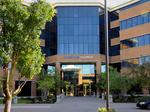 Enterprise Holdings on Wednesday said it is has acquired the St. Louis County's former family courts building.
The long vacant property sits just at the corner of Brentwood Boulevard and Forest Park Parkway, directly north of the Enterprise's corporate campus in Clayton.
Gary Cunningham, the senior vice president of corporate business management for the privately held rental car firm, said the company has long coveted the site, but has no immediate plans for it.
"Given its proximity to our global headquarters in Clayton, we have been interested in the Family Courts property for many years and were pleased to participate in the RFP process at the start of this year," he said in a submitted statement. "We were notified we were the successful bidder in early March and while we do not have any immediate plans to redevelop the property at this time, we're pleased to add this land as a cohesive part of our corporate campus and to have the flexibility to potentially expand in the future."
The St. Louis Post-Dispatch reports that Enterprise is paying $13.1 million, which includes around $4 million for the county to demolish and clear the site for the company. That surpasses an appraisal commissioned by the county Port Authority that valued the property, after demolition, at $3.23 million under current zoning or $11.25 million if rezoned for commercial use, the Post reported.
The county in 2013 broke ground on a new $122 million courts building in downtown Clayton, noting that the old one had asbestos and a "chronic lack of space," with crime victims forced to sit in close proximity to accused assailants and staffers squeezed into offices that were once detention cells.
Source: https://www.bizjournals.com/stlouis/news/2020/06/25/enterprise-holdings-to-acquire-former-court.html