City hopes to have decision on request for proposal by August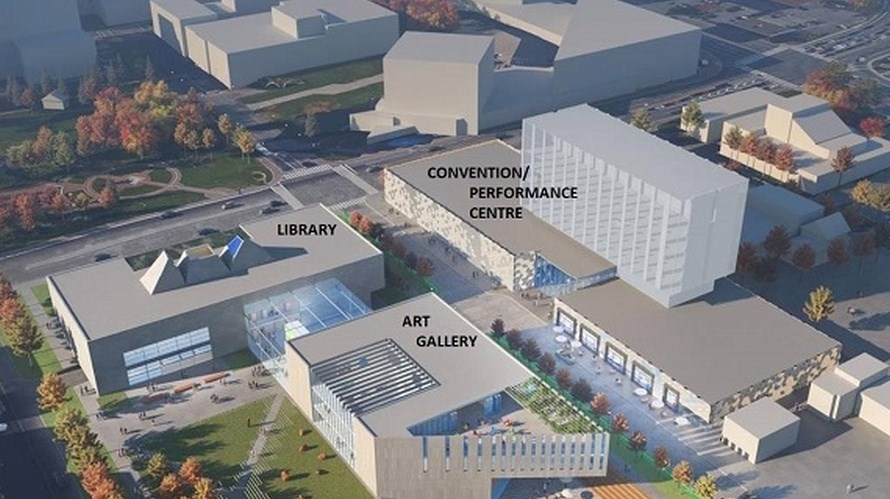 Project changes including the possible addition of an underground parking structure have bumped up the total cost of the city's Junction project by an estimated $8-12 million.
Greater Sudbury council received a large projects update on June 9, outlining major construction projects on the horizon, including the Kingsway Entertainment District, the Junction East and West, and Place des Arts.
Ian Wood, the city's executive director of strategic initiatives, communication and citizen services provided the update to council, indicating that he is expecting the request for proposal (RFP) process for the Junction West to be completed in roughly six weeks.
In January of 2018, city council selected 240 Elgin St., the Sudbury Community Arena site, as the preferred site to construct the Library/Art Gallery shared facility and the Convention/Performance Centre, or simply put, The Junction.
Since that time, the project has been divided into two portions, Junction East will include the main branch of the library, the Franklin Carmichael Art Gallery of Sudbury, and possibly the Sudbury Theatre Centre and the Sudbury Multicultural and Folk Arts Association.
Tuesday's report indicated that city staff is continuing to work with STC and SMFAA as prospective partners, and an additional 5,000 sq. ft of additional new or renovated space will be required.
The development of a parking plan will also be included in the project and co-ordinated with the City of Greater Sudbury. Both underground and surface structure options will be explored.
Junction West will include a privately operated hotel, a conference and convention centre and a community auditorium and performance theatre. There is also a potential for residential and retail space.
The city is also looking at the potential of having a World Trade Centre located in the Junction West development.
When the project was first brought forward, its estimated cost was $110 million and the total costs associated with the project to date are roughly $1 million, or one per cent of the project budget, most of which has been for staffing and hiring of consultants.
Ward 12 Coun. Joscelyne Landry-Altmann questioned why the cost of developing a parking structure was never discussed when council approved the budget for the Junction project.
"Could you clarify how parking became above and beyond, because now we're floating $8-12 million and you know exactly what's going to happen with this. I don't recall approving that and I don't recall having that discussion of anything along the lines of $8-12 million," said Landry-Altmann.
Wood responded that the city has taken an approach of making sure council is informed of the options being pursued as the project moves along, reminding council that they approved the decision to separate the Junction into two projects in May of 2019.
"The report on that day certainly talked about the importance of a parking solution specifically and the fact that it was staff's intent to take the discussions that had been occurring to that point with regards to different types of parking solutions in the downtown and incorporate it into the project," said Wood.
"We talked about underground parking as one option, but basically in responding to public concerns and more to council interest, we determined that including a parking solution as part of this project was appropriate."
Wood added that the numbers are still a rough estimate as to what expanding the scope of the project could look like when it comes to adding partners like STC and SMFAA.
Ward 2 Coun. Michael Vagnini questioned whether there was ever discussion of putting these large projects on hold in the midst of COVID-19.
"Have we had a discussion about putting a hold on these projects until this evil virus is done and if there's a second wave? Are we even talking about that?" said Vagnini. "Should we be putting a hold on these projects until we find out what our actual costs are going to be for everything else?"
Wood said that his staff has received no direction from council to impose delays on the projects, though they haven't been without their speed bumps due to the pandemic.
"We have had some delays that have resulted as side effects of our COVID response, but my understanding of the direction from council is to proceed," said Wood.
The RFP process for the Junction project is different than others, in that council have still not seen any type of mock up from anyone as to what the project could look like, a point that was raised by Ward 5 Coun. Robert Kirwan.
"I'm looking at the 13 proposals that you have for the RFP, I don't recall council having a chance to have any input on the different designs. Is council going to get a chance to have any input on the designs?" said Kirwan.
Staff is selecting a design team, rather than a design itself for the Junction project, and the design team will be going through extensive consultation with city staff, council and the public.
"We want as much input as we can possibly get as to what this building will look like, how it will function, how it will fit with the community," said Wood. "It isn't the type of RFP where we've asked people to come forward with a concept, we'll go from here to develop the concept."
Full report can be found here.
Source: https://www.sudbury.com/local-news/additions-to-junction-project-could-cost-up-to-12-million-2423254