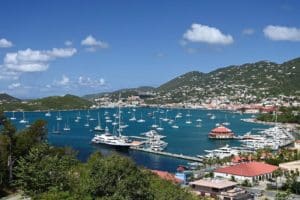 The V.I. Department of Public Works has issued an amended Request for Proposal (RFP) for a company to operate a water transportation service in the St. Thomas Harbor.
The RFP calls for four landings along the route, and the harbor transportation service would stop at Havensight, Downtown Charlotte Amalie, Little Krum Bay and Water Island.
The successful bidder will enter into an agreement with the Government of the Virgin Islands for a term of three years from the execution date, with an option to extend the contract for an additional two years at the sole discretion of the government.
The issuance of the harbor transportation RFP supports the governor's theme of the "Spirit of Travel" when a return to everyday life will be supported through initiatives such as this to welcome returning visitors to the territory.
The landings would be located at:
Landing A: Austin "Babe" Monsanto Marine Terminal (Crown Bay) in Little Krum Bay
Landing B: Philip Landing on Water Island (Start up one year after the implementation of service)
Landing C: East Downtown Charlotte Amalie Waterfront
Landing D: Havensight
Terms of the RFP include:
Providing and maintaining all equipment and staff necessary, including vessels, safety and required equipment
Ensuring all vessels meet federal and local government requirements, including the U.S. Coast Guard and the V.I. Department of Planning and Natural Resources rules, regulations and policies.
Vessels should hold a minimum of 80 passengers and be compliant with the Americans with Disabilities Act (ADA).
The operator must develop and provide a promotional and marketing campaign.
Monthly ridership data must be provided to the Government of the Virgin Islands.
The RFP calls for two separate routes to be serviced.
Port to Port East Loop Route
Crown Bay to Water Island to Downtown Waterfront to Havensight.
Port to Port West Loop Route
Havensight to Downtown Waterfront to Water Island to Crown Bay
Bidders must provide a description of their experience operating a harbor transportation service; a list of how many full-time, part-time and contract staff in the organization; an explanation of anticipated resources they will assign to this project; and an operations management methodology.
The operator will be responsible for developing a fare structure in accordance with their business plan. This fare structure must be approved by the Government of the Virgin Islands.
The deadline for responding to the RFP is 4:30 p.m., June 18.
Source: https://stthomassource.com/content/2020/06/04/dpw-issues-amended-request-for-proposals-for-st-thomas-harbor-transportation-service/