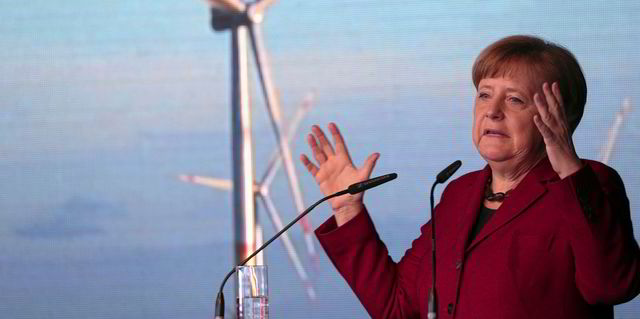 The German cabinet at the same time approves a 40GW target for wind at sea by 2040 that the industry welcomes
Angela Merkel's cabinet has approved an amendment to Germany's Wind Energy at Sea Act that raises the country's offshore wind target to 20GW by 2030 (from 15GW envisaged so far), and introduces a 40GW goal for 2040.
But the amendment at the same time led to an outcry of the wind industry as it introduces what comes down to negative bidding at tenders.
"With 20GW in 2030, offshore wind energy will contribute significantly to reaching a renewable energy share of 65% of gross power consumption," economics and energy minister Peter Altmaier said.
"For the first time, we have also determined a target for 2040, which allows all actors a long-term planning and offers a reliable framework for offshore wind energy."
The federal government last month had already reached an agreement with coastal states and transmission system operators on the higher 2030 target of 20GW, and how to reach it.
The amendment approved today also stipulates that in the case of zero bids, one or more subsequent auctioning rounds would take place at future German offshore wind tenders.
This so-called 'dynamic bidding procedure' would determine zero-subsidy bidders' so-called 'ability to pay' in order to find out how much a future operator must pay in grid fees to transmission system operators (TSOs). Successful bidders will also need to pay the government for preliminary investigations of potential offshore wind sites.
Making operators pay for grid access in effect comes down to paying for the right to build offshore wind, WindEurope chief executive Giles Dickson criticised in a post on LinkedIn.
"Germany already allows "zero bidding" where you earn the market price. And that's bad enough. The costs of financing "zero bid" wind farms is 250 basis points higher than those that have a "Contract for Difference" (CfD). Because the banks prefer the revenue stability you get with a CfD," Dickson said.
"Negative bidding" would make things even worse. Many companies don't like bidding at zero. Even fewer would want to pay. And who knows what interest the banks would charge."
Germany should instead opt for CfDs as the UK, Denmark, France and Poland have done by now, he adds.
Germany's federation of energy and water industries (BDEW) said the higher offshore wind target for 2030 and the goal for 2040 are an important step for Europe's largest economy to reach its climate targets.
But the BDEW also stresses that to go to 40GW in 2030s from 20GW would require an ambitous expansion of 2GW per year form 2030 on, which can only succeed if planning and investment conditions are adapted.
The federation therefore rejects the proposed second auctioning round foreseen in the law amendment that still needs to be approved by parliament.
"It would raise risks for investors and in consequence increase the economic costs of offshore wind energy," BDEW chairwoman Kerstin Andreae said.
"The model also endangers the variety of actors and thus a strong competition that could lead to further cost reductions. The German market in consequence would lose attractiveness in international competition – with the consequence that investors increasingly will switch to other markets that show a better investment climate."
German wind group WAB appealed to the government to lower the risks for offshore wind farms, and talk about the tendering model with the sector.
"The industry has managed during the past years to significantly lower the cost of offshore wind. The model of the Federal Government would render wind power at sea unnecessarily expensive again," said WAB managing director Heike Winkler.
WAB, like WindEurope, also lobbies for the introduction of CfDs in Germany, which Winkler said would result in the needed stability for operators and suppliers.
Source: https://www.rechargenews.com/wind/merkel-cabinet-shocks-sector-with-proposal-for-negative-bidding-at-offshore-wind-auctions/2-1-819403