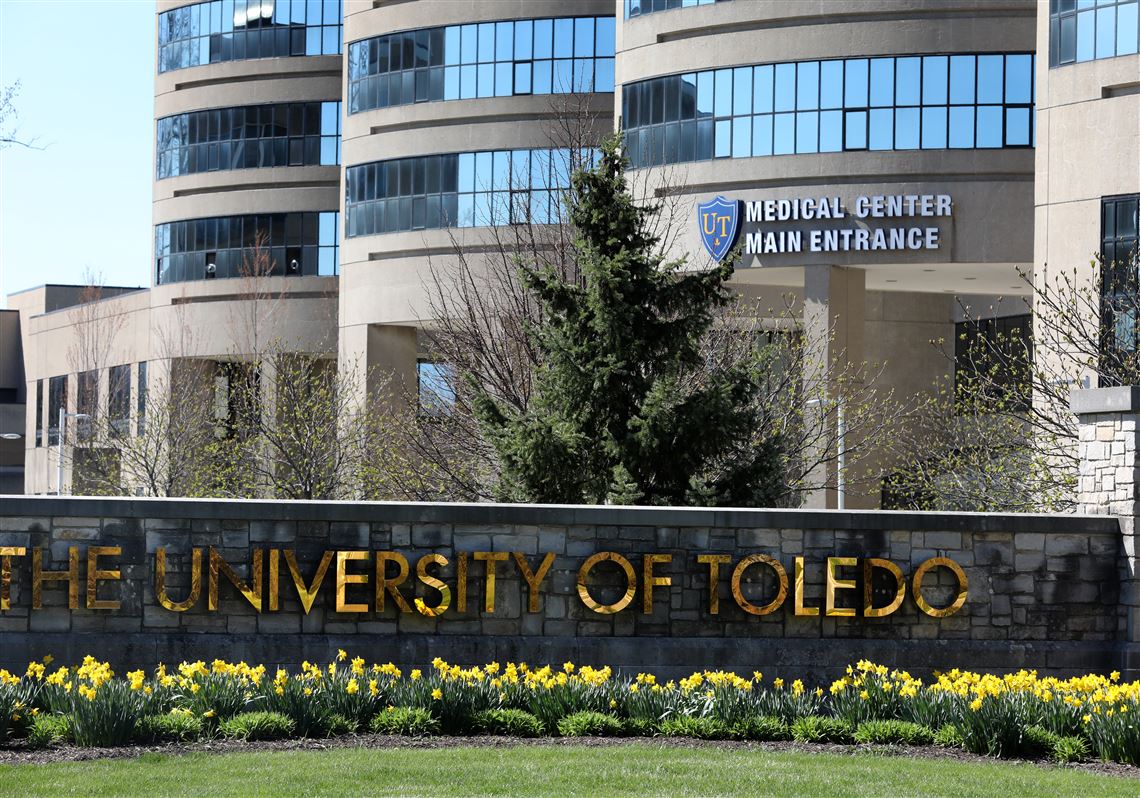 Some Toledo officials and state lawmakers again urged the governor to take action and halt the potential sale of the University of Toledo Medical Center, as well as approve an audit to investigate whether the former Medical College of Ohio was undermined by a 50-year agreement between UT and ProMedica.
During a Tuesday news conference with Toledo Mayor Wade Kapszukiewicz, State Sen. Teresa Fedor (D., Toledo), and former Toledo Mayor Carty Finkbeiner, who is one of the leaders of the Save UTMC Citizens Group, all three pleaded for the governor to take action before a June 10 deadline for UT to accept bid proposals to purchase, lease, or manage UTMC as well as a July 1 deadline for UTMC's orthopedic services to be transferred to ProMedica — which equates to another loss of a revenue-generating department for UTMC to be gained by ProMedica, they said.
UTMC supporters say a 50-year agreement struck in 2015 with ProMedica provides additional funding for the university but has resulted in UTMC's top revenue-generating departments being transferred to ProMedica's Toledo Hospital over the years. A large number of UT's medical students and residents have also been transferred to ProMedica's Toledo Hospital and Ebeid Children's Hospital for training.
"There are growing concerns that this agreement positioned ProMedica for a hostile takeover of UTMC,'' Ms. Fedor said Tuesday.
Local lawmakers previously sent a letter to Gov. Mike DeWine asking that he intervene and Ms. Fedor and State Rep. Mike Sheehy (D., Oregon), sent a second on Monday, reminding the governor that when he was Ohio attorney general and supported the 2015 UT/ProMedica agreement, he had noted then that "the Attorney General reserved the right to take future action, should the proposed affiliation prove to be anticompetitive in purpose or effect."
"It is now clear that the effect of the affiliation agreement has been anticompetitive, and recent news reports about possible conflicts of interest involving two UT trustees raise questions whether one purpose for the agreement was to undermine UTMC," the letter read. "The 50-year agreement was marketed as a means to improve UT's strained finances and to help its [UT College of Medicine and Life Sciences] enhance its academic mission. Neither has occurred."
UT officials have pushed back against criticism that the affiliation agreement is the cause for UTMC's financial woes, arguing factors such as a shift from inpatient to outpatient visits, decreasing patient volumes, service line shifts, and declining Toledo demographics are reasons.
The hospital, one of just two state-owned medical centers in the state — the other being at Ohio State University — has reported a budgetary shortfall of $14.8 million through February of the fiscal year, with more losses expected in the coming months because of the coronavirus pandemic.
In a prepared statement after the news conference, UT spokesman Meghan Cunningham pushed back against the argument that UTMC departments have been transferred to ProMedica. She wrote that, although while learners in the UToledo College of Medicine and Life Science and some of the physician faculty that teach them have transferred to ProMedica clinical sites, UTMC duties and functions have not been transferred.
"The University of Toledo has been open and transparent about the financial challenges facing UTMC that led to the public Request for Proposals (RFP) process to seek possible partnerships or sale of the hospital," she wrote. "President Gaber and University officials have had ongoing conversations with our elected officials and we continue to welcome any and all state or federal support in addressing the healthcare access needs in South Toledo within the fiscal realities of UTMC's current budget."
She added the academic affiliation agreement was made with ProMedica and the UToledo College of Medicine and Life Sciences, adding UTMC "is not, and has never been, part of the affiliation." She said the agreement has enhanced UT's medical education programs, helped to more than doubled the size of faculty, and increased access to patient interactions by "nearly tripling the number of hospital beds available for our medical learners to gain valuable clinical experience. UT has also seen an increase in the number of M.D. graduates staying locally for their residencies and fellowships, which has helped Toledo maintain access to quality healthcare providers."
But Ms. Fedor and members of the Save UTMC group disagree. During the news conference she described the ProMedica affiliation agreement as being anti-competitive with UTMC, which she said has lost many of its teaching doctors and students to ProMedica's benefit.
Mr. Finkbeiner took it a step further, adding he and others in the community were "floored" by ProMedica's recent announcement that it would build a freestanding emergency room in Maumee near St. Luke's Hospital. Just a year ago, UT officials downgraded UTMC from a Level 1 trauma center — a designation that has equipped it to handle the most severe cases from trauma patients — to a Level 3. Officials at the time said there were too many Level 1 trauma centers, but UTMC supporters now wonder if it was done to remove UTMC as a competitor so ProMedica could open its freestanding emergency room less than 10 miles away.
Both also have said UT has kept the South Toledo community and lawmakers in the dark about plans for UTMC, adding they were given no indication UT officials were considering selling it until they announced it in April after spending months discussing it behind closed doors — leaving the public in the dark.
Meanwhile, It's unclear if lawmakers will get their wish to have the governor intervene regarding UTMC. DeWine press secretary Dan Tierney has said the governor is watching the situation but otherwise couldn't provide a time frame for if or when Mr. DeWine would make a decision about the requests for an audit or to halt the potential UTMC sale process.
Ms. Fedor said Tuesday there is little state lawmakers can do to stop UTMC's potential sale if the governor doesn't intervene. While the taxpayer-funded medical college's sale would need lawmakers' approval, she doesn't believe Democrats have enough votes to stop it at the state level.
"We need [the governor's] help and we need it now," she said. "We can't wait one more day."
Source: https://www.toledoblade.com/local/education/2020/06/02/ohio-lawmakers-make-another-plea-for-halt-to-possible-utmc-sale/stories/20200602095