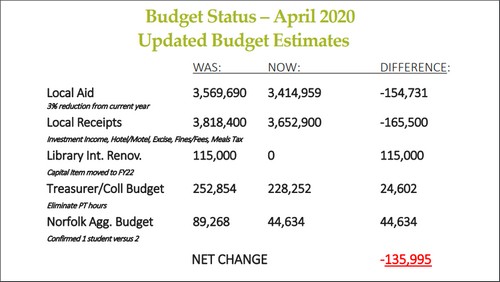 On Tuesday night, the Board of Selectmen will hold another virtual meeting. This one includes topics of special interest to Town Meeting voters. Since Monday is a holiday, I'm giving readers the advance heads up on the meeting today.
As I've previously posted, Treasurer Brian Ballantine will ask selectmen to reconsider some previous decisions on the budget for the next fiscal year.

A packet posted today includes revised revenue projections. The net difference is $135,995 lower than when selectmen approved the budget framework earlier this year. That change would add to the projected tax increase next year by 0.3%.
Ballentine presents a revised 5 year projection for the Town's levy capacity with negative balances in FY24 and FY26. (See figures right.)
The presentation lists under Next Steps:
Guidance from the State on revised FY21 revenues & revised Local Aid numbers;
Further revisions to Local Receipts;
Review deferred capital projects for possible further deferral – Capital Committee;
Board to set any tax increase parameters/goals in light of updates;
Review proposed new positions and hours for FY21.
If the Governor doesn't extend his prohibition on gatherings past May 4th, Annual Town Meeting could be held on May 16th. Whenever the meeting happens, the Town's operating budget is one of the essential items that officials will ask voters to approve.
Which other Articles selectmen will push as essential is another item for discussion on Tuesday.
Moderator Paul Cimino explained to the board (and voters via a blog comment) that he hopes to streamline the meeting by indefinitely postponing non-essential Articles to a fall Special Town Meeting. Whether or not that happens will be up to voters. But the suggestion of a Consent Agenda Article to handle that can be proposed by the Moderator.
It looks like selectmen will be discussing which Articles they will ask for voters to take up this spring, and which they will encourage can be put off.
On a different topic, the Board will consider a request from the Economic Development Committee to engage special counsel. I asked the Town Administrator and EDC Coordinator to fill in some gaps in the meeting packet. They did.
The EDC had issued an RFP to hire a consultant for technical assistance on their Downtown Business Village mixed-use zoning Article. The bidder deadline was March 25th and no bids were received.
One of the potential vendors that the EDC had identified was the firm of Mead, Talerman & Costa, LLC. The law firm is Special Counsel for the Town. (Some readers may be familiar with their Attorney Jay Talerman from his past representation on several matters and at some Town Meetings.) The Board of Selectmen is authorized to allow committees to use special counsel without issuing an RFP. They will consider doing that on Tuesday night.
The EDC voted this week to formally make the request. Town Counsel Aldo Cipriano approved that use of a lawyer from that firm, Adam J Costa, is appropriate. Costa's bio on the firm's website describes him as "an experienced practitioner in the areas of general municipal law, land use and zoning law and real estate law".
The funding for the attorney acting as a technical consultant would be through the Planning Assistance Grant from the Massachusetts Executive Office of Environmental Affairs. In September, the $50,000 grant was awarded to the Town for the EDC's effort "to move forward on two crucial issues that are currently prohibiting viable economic activity in downtown Southborough. Namely, antiquated zoning laws and insufficient wastewater management infrastructure".
Other items the board will discuss on Tuesday include revising the policy for Town employees on "Working Remotely during COVID-19". At the previous meeting, Town Administrator Mark Purple advised clarifying how employees cleared from quarantine can return to work. You can see the agenda and packet here.
Source: http://www.mysouthborough.com/2020/04/17/board-of-selectmen-to-address-next-years-budget-town-meeting-priorities-and-edcs-request/